I woke up to the sound of my alarm at 05:45 am on Saturday morning: it's big mountain finals day! Competitors staying in Wanaka had to make an early start to make it to the Remarkables near Queenstown at 8:00 am. The decision to relocate the finals to the Alta Chutes at the Remarkables was made yesterday due to the high avalanche danger still present at Treble Cone. I had checked out the venue together with my mate Janina Kuzma yesterday and had mixed feelings about it. Snow conditions were definitely good thanks to the southern aspect of the Alta chutes (the shady aspect in the Southern hemisphere), but I didn't feel entirely comfortable with the sharks (rocks hidden in the snow) or the "rock garden" style of terrain. Here, "billy goaters" would rejoice in the many lines they could hop through and around the rocks. But I made myself stay positive, it definitely wasn't a bad venue.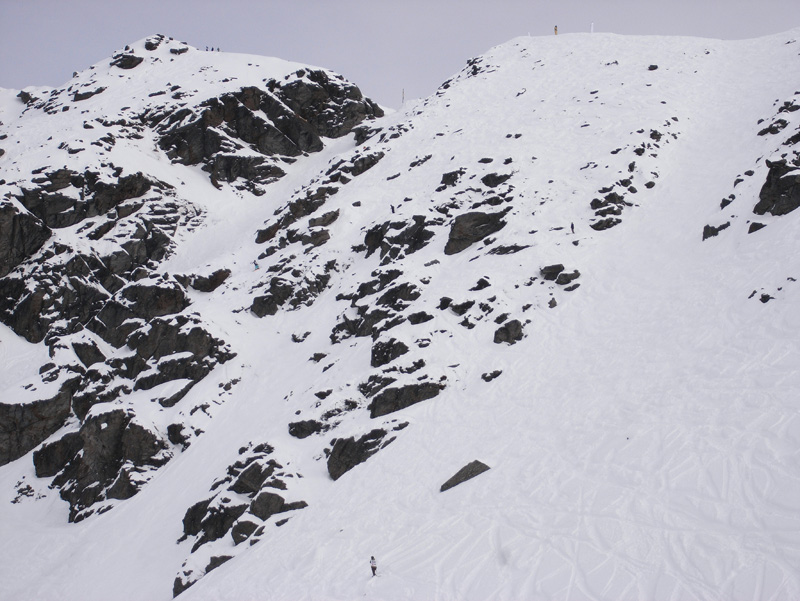 Once I had chosen a line studying the photos I had made the day before, I definitely felt better. But during our inspection run, my heart sank. The main feature I had planned to drop was a no-go. The run out was much steeper and gnarlier than I thought – it meant I would have to straight line down the entire chute over rocks – too risky. Ok, I need an alternative…I quickly pieced together a new line, open but with some nice drops. More my style. Another quick look and I had to ski to the lift and hike up to the start.  10 minutes later I hear the head judge's voice crackling over the radio: "the judges are ready for Lorraine Huber". "Ok 5 seconds Lorraine", you can drop in now."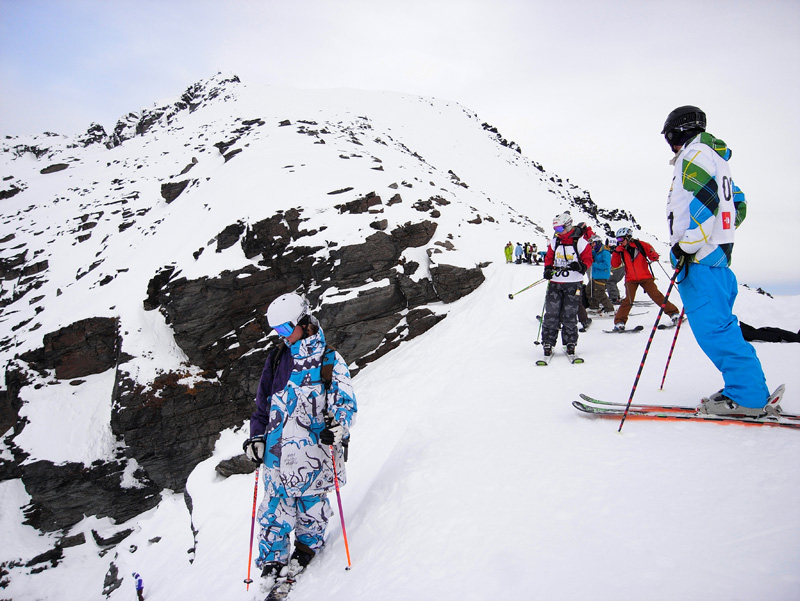 I hit my first bump, land, arching turns through the chopped-up, heavy powder, spot my first drop: a shelf on my right, dropped it, so far so good. I ended up further right than I had planned, but could get back to the shoulder on my left without stopping my flow, I had slowed down considerably though. I lined up my next drop, stomped it, and then…I just skied past my final and largest drop! All too quickly I was down at the bottom, panting. 70 seconds of high intensity skiing, but I hadn't managed to ski what I wanted. Bugger! Man was I disappointed! But I couldn't stay disappointed for too long hanging out in the sun with my mates and watching some amazing skiing from the guys.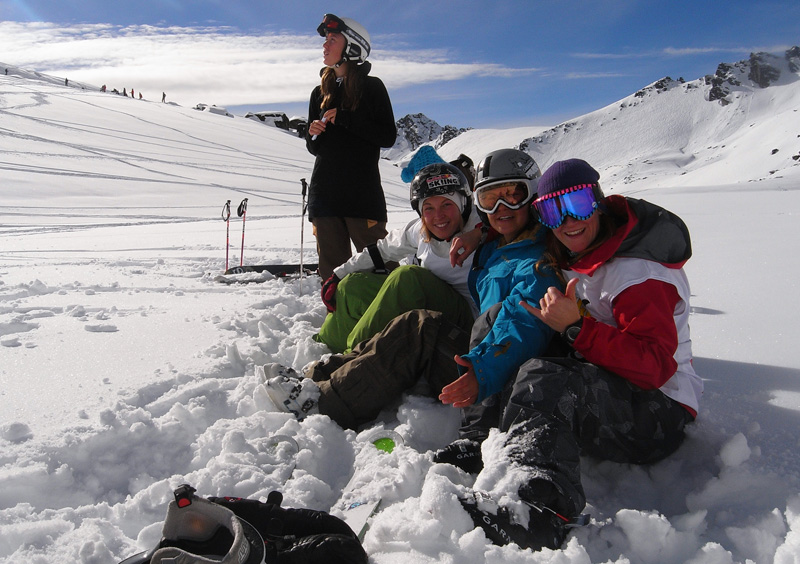 After the comp I hiked back up the venue and skied my line again, this time as I had planed. For some reason I still haven't managed to ski in competition as I usually do when skiing alone or with my mates.  Finding out why is a great challenge, one that I'm working on right now. Lets see how I go in the K2 Big Mountain Chill Series coming up at the end of the month.
In the end I was stoked to come 3rd at this comp, and especially to compete with skiers like Janina and Rebecka, who are both competing in the Freeride World Tour 201o. Visit the NZ Freeski Open website for video footage and full results.