The Chill Series big mountain competition, held this year for the 10th time at Craigieburn Valley and Mt. Olympus, is renown in New Zealand for its challenging terrain and positive vibe. I couldn't wait to be part of it this year and finally get the real New Zealand "club field" experience. The club fields are usually non-profit organisations run by enthusiastic club members and seasonal staff. They exist solely for the purpose of skiing and snowboarding, not for commercial gain. These grassroots, unpretentious club fields also have one more enticing element—namely, steep, gnarly terrain that remains relatively untouched. Bowls, chutes, cliffs, short and long hikes are the flavours of the day. Terrain is accessed using high capacity rope tows and so called nutcrackers – more about that little adventure later!
After a 6 hour drive from Wanaka with Jake and Freeride World Champion Susan Mol, we arrived at the cosy alpine lodge nestled in the native bush of the Craigieburn valley. It had been absolutely pouring all day, so our expectations regarding the snow conditions weren't too high. Furthermore, we were being pounded by gale force winds of up to 120 km/hr. The rope tows were forced to remain closed the following day, so we made use of a brief clearing to explore the area by foot, before it started snowing again in earnest.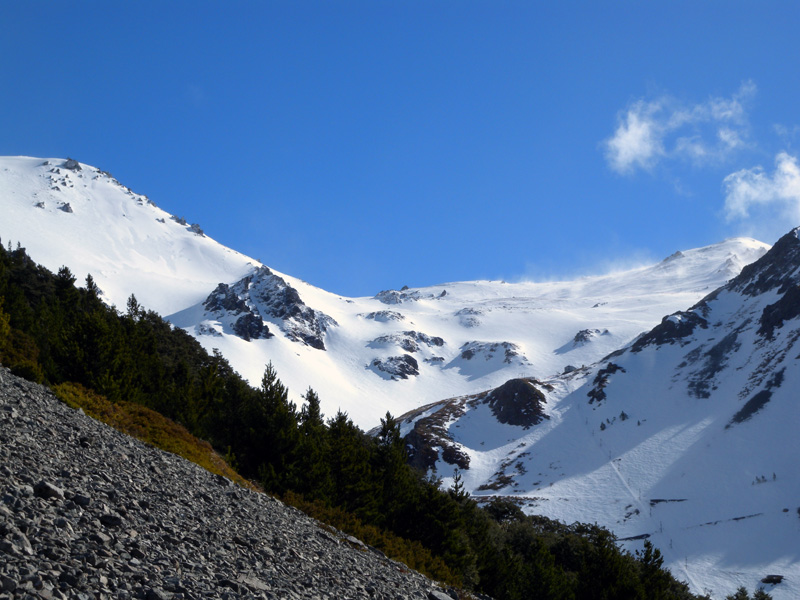 Day 2 brought more snow and gale force winds, but luckily for us we were able to ski 5 runs before the rope tows were closed again due to the wind. However, the comp was on hold for today. But we did get to learn, albeit in extreme conditions, how to clamp our nutcracker onto a high speed rope for the first time. What scared me most were the pulleys which hold the rope in place – never once did I forget to take my hand off the rope so as not to get it caught in-between the rope and the pulleys. Without a doubt this day was one of the funniest ski experiences ever!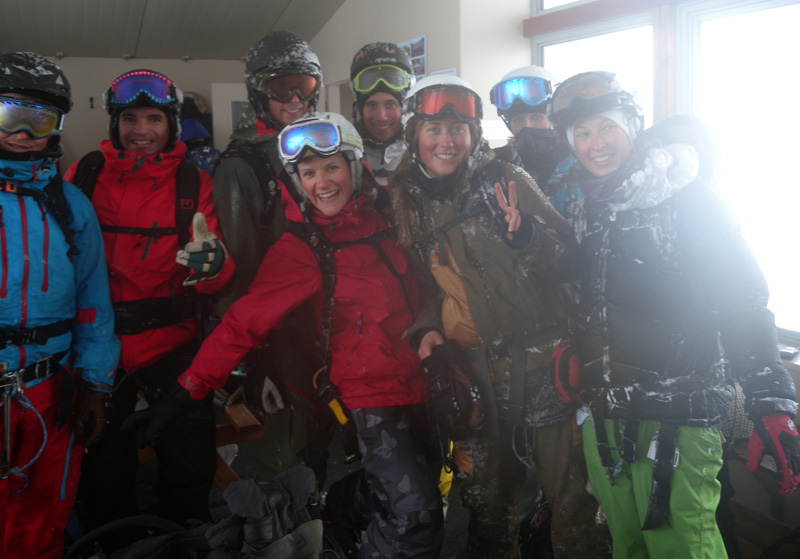 Day 3: The Expression Session
Really strong winds again today. The clouds whipped past the mountains so fast it looked like a time lapse. The top rope tow remained closed but that didn't stop the event staff from organising an expression session in Gut 2 and 3. What looked like a ho-hum little area turned out to be a great playground showcasing the talents of the New Zealand freeskiers: getting super creative and throwing down in terrain a European skier would simply overlook. Super inspired and motivated, I joined the skiers and snowboarders in finding sketchy straight-lines and doing ollies over rocks at high speed, something I would otherwise not attempt. What a great day of skiing! To top it off, I was awarded the best female performance for skiing strong lines from top to bottom. A great way to end the Craigieburn Valley section of the 2009 Big Mountain Chill Series.