From Temple Basin we drove in convoy with Smoothy and Pete to Blenheim, stayed the night at Pete's place and took the ferry the next day from Picton to Wellington.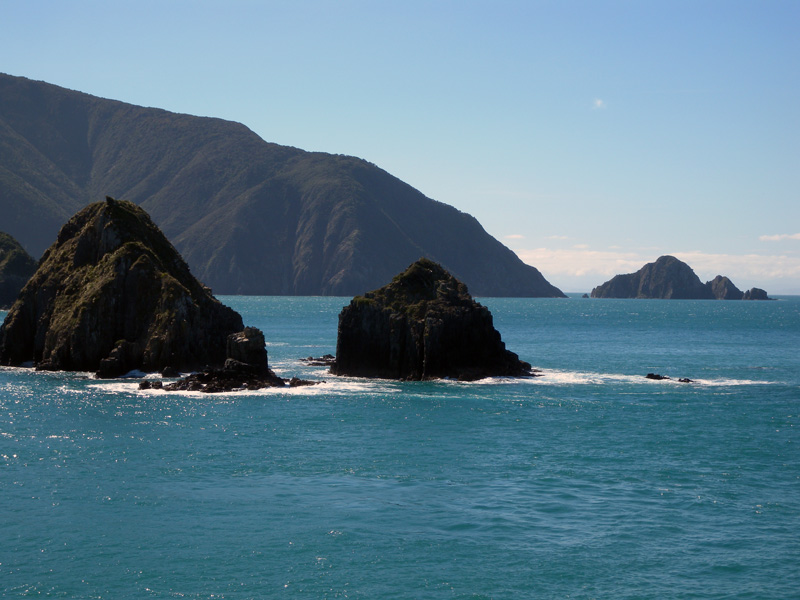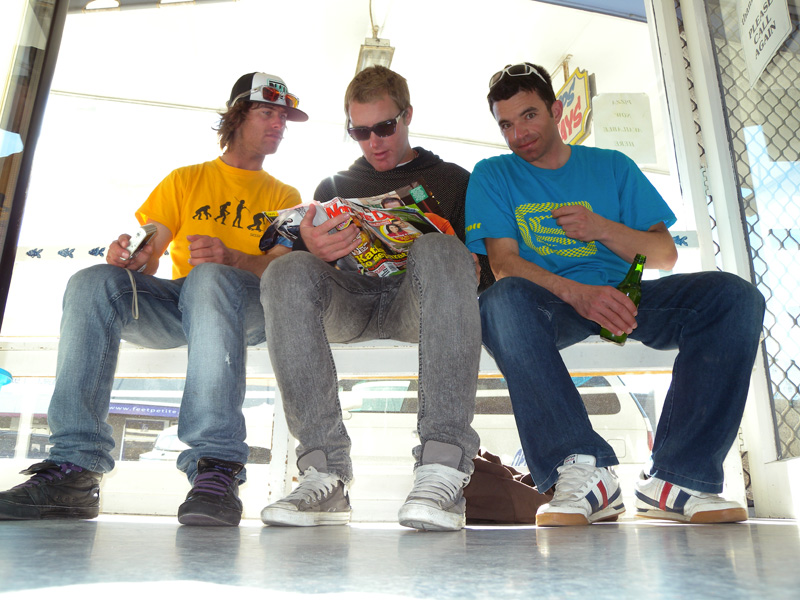 Our destination: Okahune, the town at the southern gateway to the Tongariro National Park World Heritage Site, at the foot of Mt. Ruapehu. One of the world's most active volcanoes which last erupted in 2007, Mt. Ruapehu is actually New Zealand's largest ski area offering two different ski areas: Turoa and Whakapapa (and yep, you pronounce the "wh" as an f). The latter was to be our playground for the next week, which is the perfect description for it. Never before have I seen so many cliff bands and rocks to jump off.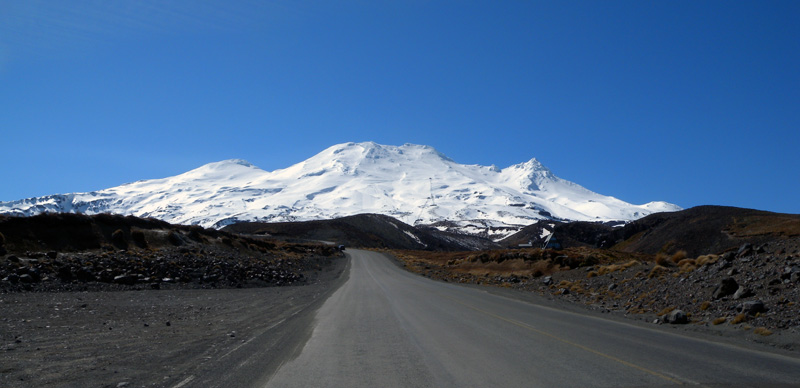 Perfect corn snow conditions in the sunny aspects prevailed,  however the take-offs over rocks had melted so far back that one could only ollie over features with a truck load of speed to take any air. Challenging for spoilt me, used to skiing in Europe. Oh and did I mention that it's pretty exposed here?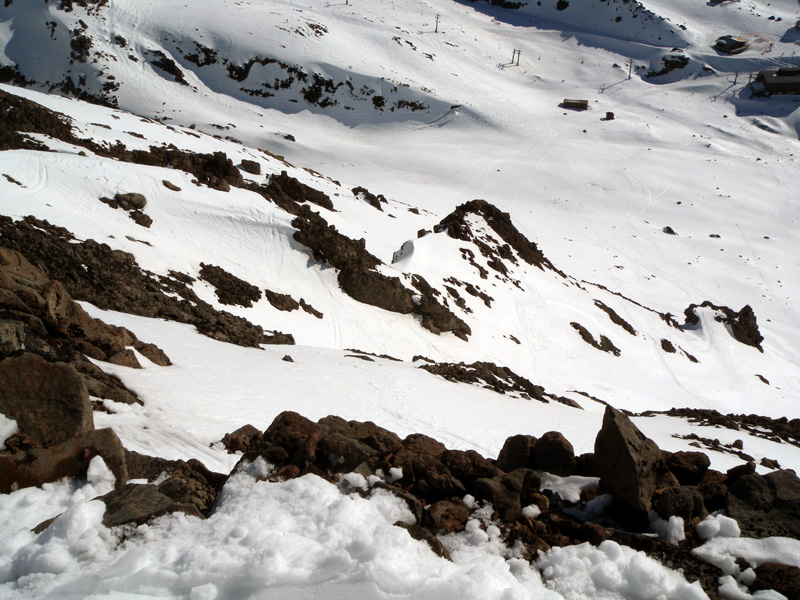 We had 2 comp days – the weather gods truly blessed our event as so many good weather days here are unheard of – 2 runs each day, a total of 4 runs, with the 2 highest scoring runs going toward the final score. I skied a nice solid 1st line in some exposed terrain, the snow had softened up by the afternoon and it was great! For 1 day now I had been eyeing a straight-line at the bottom of the venue which required you to ollie into it blind. I decided after much lining up and psyching myself up, that I just had to do it.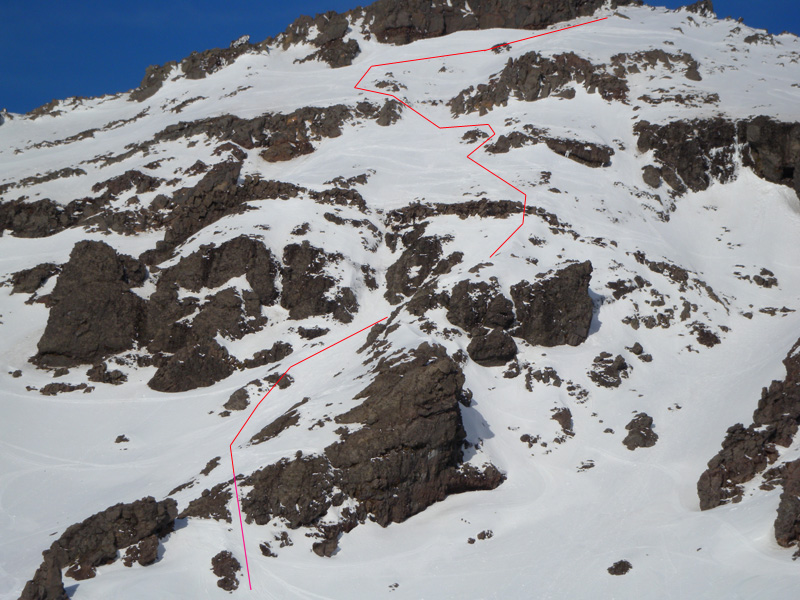 I felt really good during my second run and decided to go for it. After all, I had everything lined up and it has just got to be here, right? Well without hesitating I launched myself – I knew I didn't even have to go that fast to make it over the rocks into the straight line – and landed with both skis smack bang on the rocks. Aaarrrrggh! The moment I touched down I tried jumping right off the rocks again, did a forward somersault and miraculously just skied out of it, albeit in a lot of pain. I got a good smack on my upper back and neck, ouch!
The boys put on an awesome show, with Geoff Small in the lead but plenty of younger skiers on his heels. Sam Smoothy had a scary crash above exposure on his first line but got it together for a second solid run. Pete Oswald skied a really nice, technical line no-one else attempted, airing over exposure onto a small snow pocket followed by a gnarly straight line requiring a whole heap of commitment. Mt. Ruapehu local Nathan Johns skied mostly in the fall-line, straight-lining basically through the gnarliest terrain and just able to hold his speed together during the second half of his run. Click here for the video of comp day 1 on snowtv.
My goal for comp day 2 was simply survival skiing: on pain killers and after much icing I hiked up to the start for my run. I pretty much decided already that this was going to be my only run for today, so I wanted to make it solid. On inspection even the smallest drop seemed kinda big to me, I was hurting and not really having much fun but I had to get this run done to get a score and those Freeride World Tour points. I choose to ski the venue on the skiers left today, with an obligatory cliff band to drop in the middle. I was so nervous at the top of my run, but my nerves settled as soon as I was given the all clear to start. Now I could just concentrate on my line, which I (almost) skied as I had planned. Nice!
Smoothy managed to come out on top by a mere 0.2 points after an awesome and very balsy line. Geoff Small had the crowd cheering with a 360 over his last cliff, the guy can spin! All in all it was an amazing show and an awesome after party.
Click here for the video of comp day 2 on snowtv.