This past weekend, the Freeride World Tour riders experienced the amazing organisation and hospitality of Fieberbrunn, host to the 4th FWT stop. Unofficially, Fieberbrunn is considered the best stop of the tour, featuring a contest village set-up where up to 2,000 spectators watched the competition on Saturday. As in past years, we competed on the Wildseeloder mountain, with the females starting this year on the lookers left side of the venue. The snow conditions on our venue where excellent with around 20cm of fresh powder, the weather blue bird. The women put on an amazing show, skiing fluidly and without hesitation over the features and drops. We were filmed with a cineflex camera from the helicopter, you can check out the best runs here.
I felt really good about this competition; I knew the conditions were great and we could see almost the whole run from the start, making orientation in the face easy. Also the venue was relatively easy without any exposure or unknowns, so us girls could really rip it up! I started as second last female and was able to watch most of the runs from above, but this didn't change anything about my line choice since I really like to focus on the line I planned and not my competition. I like that about freeriding: it's about you and the mountain, not about beating your opponent with killer instincts as is required in sports like tennis or boxing, so it suits my personality. Don't get me wrong, I'm very competitive, but more in a way of always wanting to do my best, not necessarily of wanting to beat everyone else. So back to the comp: I chose a fluid line in the fall line with 3 solid airs with the goal to ski it fast, stepping it up from my performance in Röldal. And for the first time, I managed to do just that: aggressive and confident skiing in a competition situation. I was really enjoying my run, slashing the wind lip in the top section of my run twice and getting some great powder turns in, taking all my drops without hesitation and stomping everything cleanly.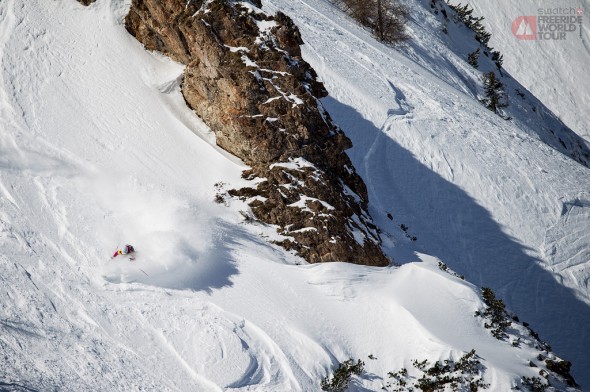 After my last drop I took a lot of speed into the last slope before the finish, and then disaster struck! The snow changed from powder to crud and the slope became significantly steeper, I was just carrying too much speed and got bucked into the air, bounced off the snow once in a spectacular looking crash, because onlookers thought I was about to collide into a tree. I can't tell you how disappointing and frustrating that stupid crash was, especially after such a strong run and since I really needed a good result in Fieberbrunn to a) qualify for the finals in Verbier and b) qualify for the Freeride World Tour 2013. I'm not letting myself get down about it though. I still feel like I've made progress and I'm trying to remember the bigger picture and that all these experiences are a necessary process in order to reach the top. The judges told me if I had not crashed, I would have places third or fourth, and that is encouraging. Eva Walkner had a great run and placed 1st, Christine Hargin from Sweden placed second and Janina Kuzma from New Zealand third. Congrats girls! The excellent news is that I've been selected to receive a wild card for the finals in Verbier!! My goal this season was to make it to Verbier, so I'm over the moon about it. I will have nothing to loose in Verbier and will give it my all. Stay tuned!