After 7 days of waiting for better snow and weather conditions, we finally could compete on the Wildseeloder at the 4th stop (5th for the boys) of the Freeride World Tour 2013. As always, we were welcomed and treated like real stars in Fieberbrunn and the local organisation team was simply fantastic. We passed the time during the waiting period just fine though, skiing together, jumping off anything we could find in the warm, slushy snow, extended pool, stretching and sauna sessions in our hotel, some partying, meeting new people at The North Face tent in the expo area, and even sight seeing in Innsbruck. I went home for a few days to spend my birthday in Lech, and then it was on! The last days had brought fresh snow and Saturday was going to be bluebird.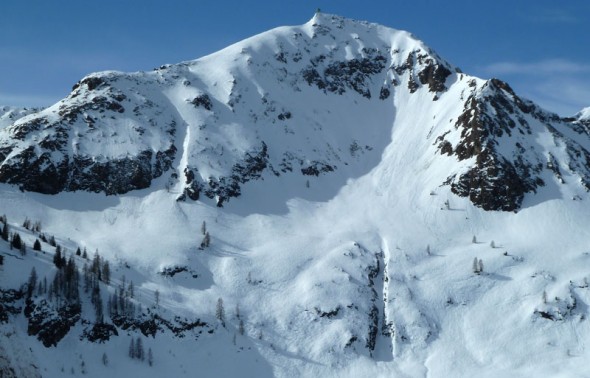 The day before the comp we didn't see the face due to thick fog, so that meant that the girls, who were starting first, would have only around 30 minutes the next morning for one last look at the face before hiking up to the start. That made it a bit tougher, but luckily the face is easy to orientate in. On contest day, we got up at 5:00am in order to have a good breakfast and go up with the first cable car at 6:15am. Seeing the Wildseeloder that morning, I ruled out the big cliff I had planned to take due to the not so ideal snow conditions. The take-off looked bony (i.e. only covered only by a thin layer of snow) and the landing looked like a sheet of ice, although a little lower down there was some good, blown-in powder. Instead I opted for a smaller double I knew would be fine to take, and, if skied fluidly, would still score well with the judges.
I skied really well in the top and main section of our women's venue on the lookers left of the Wildseeloder, taking a first double without hesitation and continuing on to a further double over a cliff band. After the airs I got a lot of speed and the snow varied from powder to sheets of ice. I was at my limit but still in control. I took a fair bit of speed over my last air, feeling confident that the landing there would be soft. I was wrong. I landed on pure ice and didn't have a hope in hell to absorb the huge impact. Looking at my run on video at home, I realised that I did everything right, had a good amount of speed over my air, maybe not hitting the transition perfectly, but with good form in the air, I just didn't calculate with the landing being so hard. Looking on it now after watching all the runs, I could have had a top scoring run by just popping over that air almost from a stand-still or by even just skiing down to the finish line without taking any further features, but you don't know that at the start, you just have to give it your all to land a good scoring run. That's the really frustrating part, and I was so close this time! I was feeling pretty down yesterday, but after waking up today the world always seems to be in order again. My goal after my run in Chamonix was to ski faster, and I've certainly achieved that, so I'm heading in the right direction and I'm going to stick with it!
The great news is that I've received a wildcard to the Freeride World Tour finals in Verbier and I'm so excited about that!! I won't be able to score any points to improve my FWT ranking, but I will have the opportunity to compete at the most famous and mythical freeride competition in the world, on a beautiful face. Last year I also received a wildcard to Verbier but I was injured and more scared than anything else. This year I'm going to really enjoy it, I'm heading there already tomorrow. The snow conditions are looking really good, so stay tuned!