Competing at the Verbier Xtreme, the Freeride World Tour finals, is different from any other tour stop. The terrain is extremely steep and rocky, with a lot of sluff and consequences if you fall in your run. Jumping a cliff in this terrain means you fly a lot further and get very fast after your landings due to the steepness. Add to this the huge spectator and media interest (the FWT is expecting 100,000 viewers to be watching the live stream online) and you've got every reason to feel nervous up there at the start. More than ever I had to remind myself that we're just skiing here and it's just a run, not the final day of judgement 😉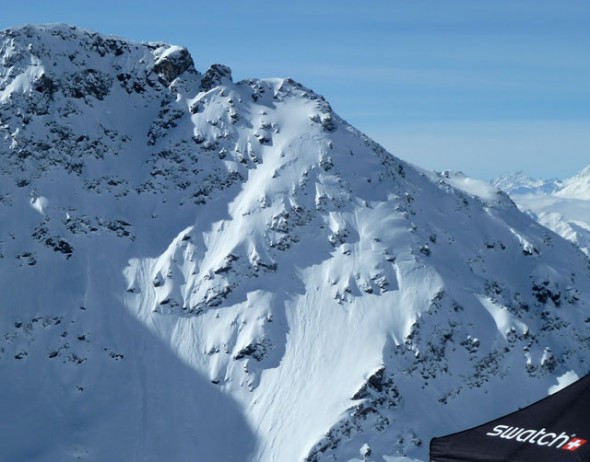 The female competitors were flown to the start by heli because the hike up was deemed too avalanche dangerous and exposed by security, a call I was very grateful to hear. We were six ski women and five snowboard women at the start, including three wildcards given to Matilda Rapaport, Estelle Balet and me. We were all really quiet at the start during the wait for the flat light to improve, the tension was palpable. I was the last girl to ski the Little Bec which I actually liked since it gave me a chance to get a bit of a feel for the conditions. Generally the snow was excellent, nevertheless there were sections to be aware of, such as the take-off of my first air which was peppered with rocks.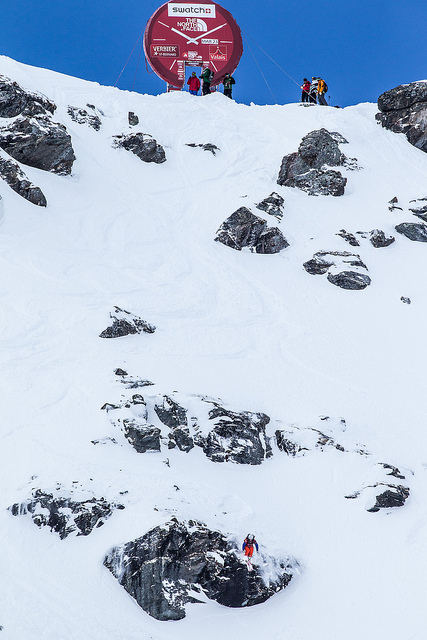 I was able to ski my line as planned with the goal to ski as fluidly as possible on the face. I had some bad memories of the top air where I crashed above exposure last year, but I knew conditions were much better this year and I adjusted my take-off angle somewhat. My top air went really well without getting caught on the pepper and I landed cleanly. I was very fast upon landing, the light was quite flat and I was surprised by a small fracture from a slab avalanche which I couldn't see. All I had to do now was ski down the gut to my second and bottom air. As I had expected the snow here varied quite a bit due to old sluff which had set up and become firmer than the fresh powder. After jumping over my bottom air without hesitation I became so fast, all I could do was straight line out of the venue and loose speed once the terrain flattened out again. I was super happy with my run and very happy to be at the bottom all safe and sound!
I came second behind Matilda Rapaport who's line was very similar to mine with Nadine Wallner coming third with another solid run. Congratulations also to Nadine who won the overall title this year with very consistent and strong skiing, very impressive for her age and for being on the tour for the first time!