28 women attended the Women's Progression Days by Lorraine Huber in Lech am Arlberg from 10.-12.01.2014. As I was introducing the guide team in the Ambrosius Stüble on Thursday night before the first day of skiing, I felt so proud to have attracted such a large and good group of skiers to my annual women's program this year. It is what I had envisaged from the start, but it took a number of years and some real determination to get there.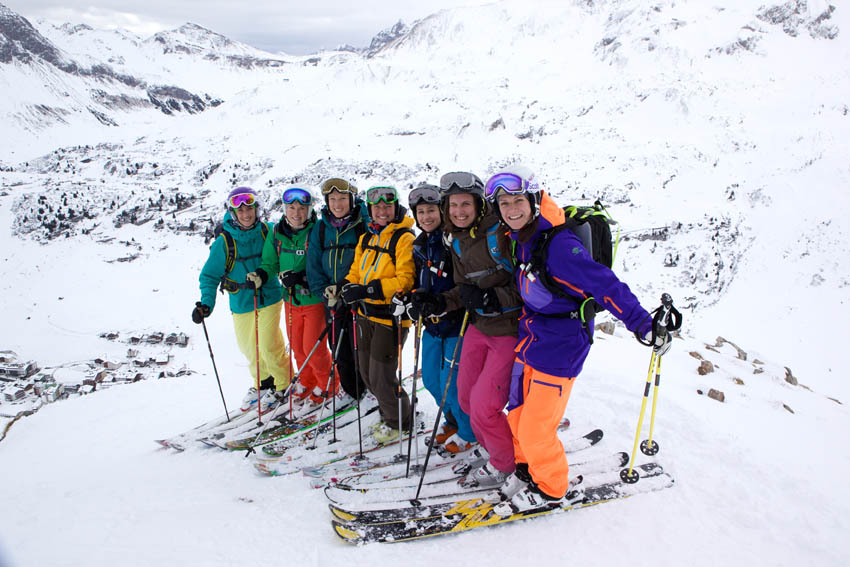 Luckily for us, it snowed Thursday and Friday night and the WPD guides Geli Häusl, Angelika Kaufmann, Liz Kristoferitsch and I found many untracked and challenging runs for the participants. The first day was our safety day, involving brushing up on the essential avalanche rescue skills such as beacon search, using the probe, the right shovel technique as well as a simulated group rescue situation. Participants also received ski technique training during day one with plenty of input to work on for the following two days. Ski technique, choosing lines and skiing variable terrain and snow conditions were the focus for day two and three.
Participants were photographed by Lisa Fail and filmed by cinematographer Balint Hambalko who made a fantastic edit of the WPD 2014 right here:
I'm still buzzing from all the positive feedback and general fun and laughter the women had together at the Women's Progression Days. Besides the great skiing, the best thing was the many new friendships formed with like-minded women who also love to ski. See you at the Women's Progression Days 2015!