Last year we filmed our very own girls ski movie, "AS WE ARE", which is currently touring around Europe. "AS WE ARE" is a celebration of women's skiing in a male-dominated world of sports where female athletes are notably absent in most ski movies. The 48 minute full-HD film is more than just great ski action in the backcountry. It tells the story of six freeride girls who started their journey as strangers and end up becoming fast friends, a journey which takes them to the best snow and backcountry terrain in the Alps.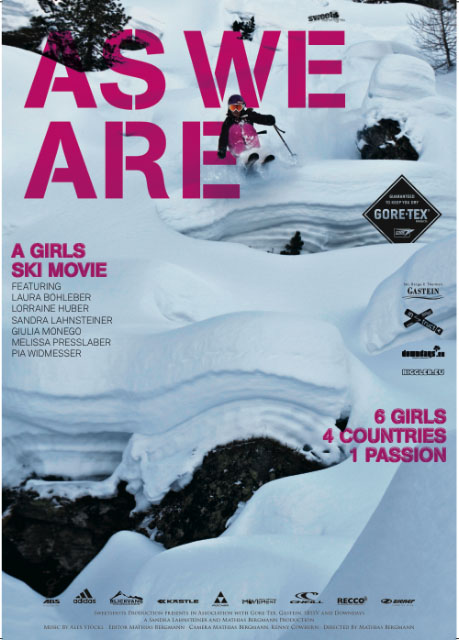 AS WE ARE European Film Tour presented by Gore-Tex®
– Innsbruck/AUT            27.10.10, 20.00 Metropol Kino Innsbruck
– London/GB                        28.10.10, Freeski Film Festival, Clapham Grand, London
– Hartkirchen/AUT            30.10.10, 20.00 Musikschule Hartkirchen
– Salzburg/AUT            05.11.10, 20.00 SN Saal Salzburg
– Vienna/AUT                        18.11.10, Vienna Freeski Film Festival, WUK
– Amsterdam/NED            19.11.10, Dutch Freeski Film Festival, Amsterdam
– Ebensee/AUT            26.11.10, 19.30, Arbeiterheim Ebensee
– Kitzbühel/AUT            08.12.10, Special Event mit Casino Spielkapital
– Lienz/AUT                        10.12.10, Lienz
– Rosenheim/GER            14.12.10 20.00 Ballhaus Rosenheim
The Movie – Fact Sheet
Athletes: Laura Bohleber (SUI), Lorraine Huber (AUT), Sandra Lahnsteiner (AUT), Giulia Monego (ITA), Melissa Presslaber (AUT), Pia Widmesser (GER)
Producer: Sandra Lahnsteiner
Camera: Mathias Bergmann from sweetshots, Kenny Cowburn
Director and Editor: Mathias Bergmann
Film locations: Gastein (Aut), Lech am Arlberg(Aut), St. Jakob i.D. (Aut), Hochfügen (Aut), Verbier (Sui)
Length: 48min
Format: Full HD pro
Click here for all information, our trailer, and upcoming tour dates.