I flew to Tromso in the north of Norway on the 24th April to meet up with the Warren Miller film crew. We are producing a segment for the next Warren Miller film about freeski mountaineering in the Lyngen Alps. The Lyngen Alps are located 500 km north of the Arctic circle at 69 degrees north latitude, the furthest north I've ever been. We're too late in the season to see the Northern Lights because at this time of year it doesn't really get dark anymore. We're just 2 weeks out of the midnight sun, when the sun revolves around the North Pole and never goes down. The beauty of this place is hard to describe, but it certainly is the combination of the ocean and the mountains that make it so fascinating.
On the East side of the Lyngen Fjord is the Lyngen Lodge, a truly special place for ski tourers and tourists alike to discover the area. The brand new lodge with breathtaking views of the Lyngen Fjord is run by UIAGM mountain guide Graham Austick and Elisabeth Braathen. I felt instantly at home here. The level of service is outstanding, one of the best lodges I've ever stayed at. It is high class yet cozy. Some highlights include the great food and wine, the hot tub overlooking the Fjord and the library packed with mountaineering literature.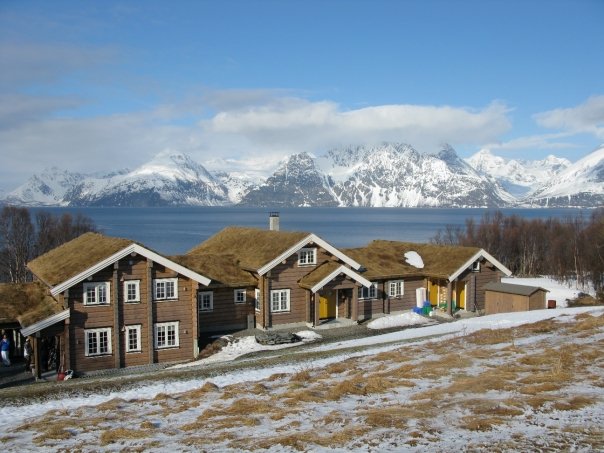 The gorgeous Lyngen Lodge
Joining me on this trip are Kastle team mates Chris Davenport and Karine Falck-Pedersen; Tom Day, Josh Haskins and Colin Witherall behind the camera and photographer extraordinaire Peter Mathis. We are on a mission to document the beauty of this place and show what freeski mountaineering is all about.
One of the best things here is accessing the ski tours by our boat "The Spirit of Lyngen" and hiking directly from the shoreline. On Monday, which unexpectedly turned out to be blue a bird day, we took the boat to Uloya Island and hiked up to the summit of Blaatinden. The hike was 144o vertical meters and took us around 5 hours including filming.