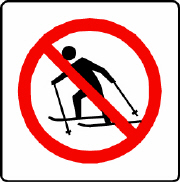 I fell ill with a bad cold on the 22 September, from which I still haven't recovered. After visiting different doctors and completing blood tests, I've finally been diagnosed with Mononucleosis Infectiosa, also called Glandular Fever, "Pfeifferischer Drüsenfieber" or kissing disease, caused by the EBV-Virus. The disease typically begins with cold-like symptoms, sore throat, sore joints, swollen lymph nodes, then one just remains tired and weak for a month or two.
I've been told it's actually a harmless viral disease, except for the risk of splenic rupture. Roger Federer was diagnosed with the disease in 2008 and consequently had to pause his tennis training for a month. I'm going to pause my training and skiing until my respiratory infection has cleared up. I can only hope it won't be too long.
My goal is still to compete at the first main women's event of the Freeride World Tour in La Clusaz on the 15th January. Whether this is a realistic goal I'm not able to say right now. I'm feeling pretty bummed at the moment since I won't be able to prepare for competition season like I had planned. I'll keep you updated right here, don't forget to subscribe to my entries (see link in the footer).