What happened previously
My last blog entry about the FWT revolved around learning about how I had been overly focussed on the overall title instead of enjoying each stop for what it was and just thinking about skiing my best. I came to this realisation after having broken my ankle at the start of the season, a good reminder for me that there are more important things in life than winning the FWT. After a sensational third place finish at the FWT Fieberbrunn and a mid-field finish at the FWT Andorra, I had managed to qualify for the much sought-after FWT stop in Alaska, as well as securing my place in the FWT 2016. This in itself is a success, considering my injury and the fact that I had to miss the first stop in Chamonix. I have to keep reminding myself of that however, since I've also been struggling with feelings of disappointment after having placed 7th overall in the FWT 2015 ranking. So this is what happened after Andorra.
Haines, Alaska!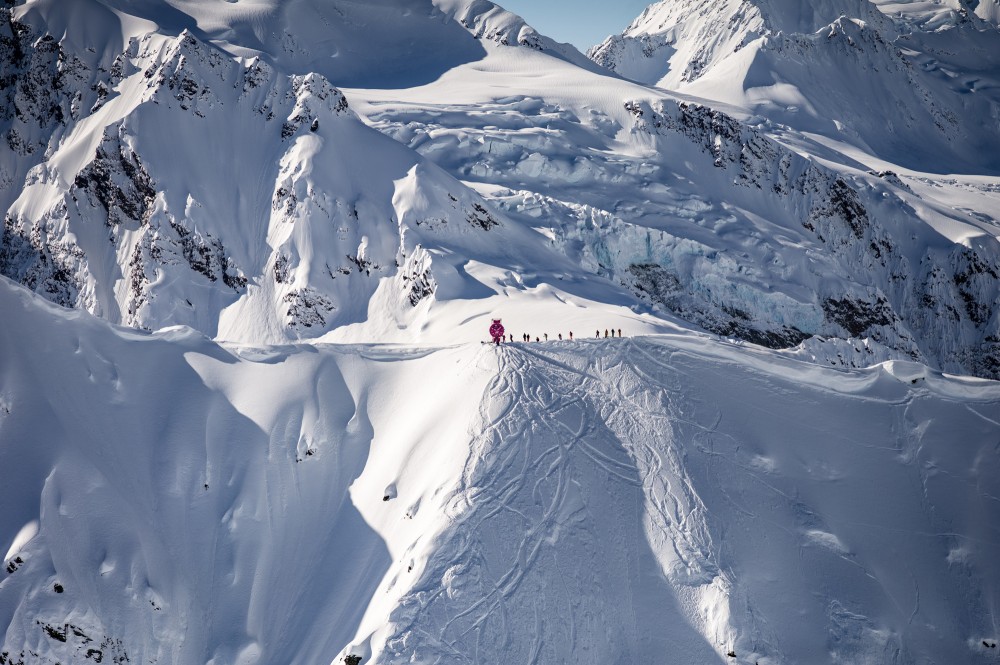 For me it felt akin to returning home after seeing a lot of familiar faces from having filmed here in 2013 with the Shades of Winter crew. People here are so friendly and welcoming! Hosting a FWT event in the mountains of Alaska is an enormous undertaking. The remote location, accessible only by helicopter, the extremely fast changing und unpredictable weather, all the logistics and technical equipment required to provide a live stream, the list of challenges goes on. For us riders, it meant patience. We had a total of three false starts before we actually were able to compete on the face.
Competition tactics, or lack thereof?
My experience told me that if I played it safe by skiing a clean run, I would probably place very well on this face. I knew the terrain was challenging and that the snow would be unpredictable with all that fresh powder. For me, one thing was clear: I wanted to ski a very special run at this historical event in Alaska. So I decided to go for it! I planned on hitting a big double in the middle of my run, and got to watch some of the snowboard men hit it before being flown to the start. It was good to go! I started my run, excited to be finally skiing the face. I skied beautifully in the top section, then I approached the double, and that's where everything went pear shaped. I angled the first part of the double a little more to the right, wanting to avoid previous bomb holes, and landed on unexpectedly hard snow from a small slab having broken out there. The snow here was fast, not fluffy powder. The next surprise: the second take-off  of the double was much further away than I had expected (the terrain in this face is just enormous, the greatest difficulty certainly was judging the sheer dimensions of it). Instinctively, I tried changing direction somewhat before the second take-off, since straight-lining this section would have sent me off the jump at mach speed. However, I became unbalanced in the air and couldn't land the jump on my feet. I crashed, and it was over. In just a matter of seconds, all the build up, all that waiting, all that planing and energy going into one line, gone! I skied down the rest of my line, totally disorientated and demotivated. It was a pretty low feeling and I can tell you, I was bummed. But I was healthy and able to qualify for the finals, the Xtreme Verbier! That gave me consolation.
Here's the video of my run:
20th year edition of the Xtreme Verbier
It was go big or go home for the women's ski field at the Freeride World Tour finals in Verbier yesterday. Hazel Birnbaum skied an exceptional line with a huge amount of confidence and control, sending a massive double at the end of her run which hasn't been done before by a female skier. So inspiring! Silvia Moser came in second with a really creative and new line with lots of features, and Christine Hargin came in third showing super solid and fluid riding in the classic line on the lookers right of the women's venue. The other five ski women qualified for the Xtreme Verbier, including myself, opted to start from start number two on the lookers left of the venue, featuring an obligatory air of around 7 meters. Due to a bombed and skied out landing area on very firm snow, we all unfortunately lost our skis in the landing and none of us could finish our run. Luckily there were no injuries, especially after such huge crashes.I'm hugely inspired by these ladies and am very proud to be part of such a talented group of skiers!
I wasn't too disappointed about my crash since I felt really good in the air and was committed to stomping my line, that's the important thing to me. It's part of the sport of freeriding that you can't always know 100% what the snow will be like, and both male and female competitors struggled with the conditions on that part of the face.
Video of my run at the 20th year edition of the Xtreme Verbier 2015